Welcome to GrammarTrainer
The GrammarTrainer method uses computer software to teach grammar through text and pictures.
If your child or client knows the words for basic colors and shapes and can read these words, the GrammarTrainer software program can teach him or her how to put words together into ever longer phrases and sentences.
The GrammarTrainer Goal is to help visual learners: express more complex thoughts, understand more complex explanations and pick up more of the language and social dynamics of daily life.
GrammarTrainer can help children who:
lack age-appropriate grammar
have at least the vocabulary of a normal 2-to-3-year-old
recognize these words in writing
can operate a mouse or keyboard
have trouble putting words together
prefer visual modes of learning
have received an autistic spectrum or auditory processing diagnosis:
For more information on the program and how to purchase it, click here.
How GrammarTrainer surpasses other software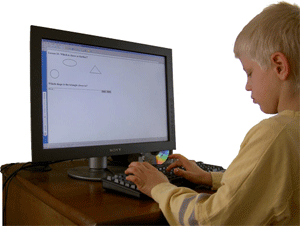 In comparison with all other language software, the GrammarTrainer was designed by a professional linguist for her autistic son. It employs an unprecedented level of linguistic sophistication and asks the child to respond actively by clicking out his answer word by word. It gives detailed, incremental, carefully-worded linguistic feedback and interactively guides the child towards the correct answer. GrammarTrainer also covers the broadest range of grammar topics: from simple phrases through complex sentences, ensuring that the child internalizes what he learns.